Our Roasted Garlic Juice Spray offers you the full rich flavor that comes from slow roasting our garlic cloves. Our pressing process preserves all of the natural goodness.

Each bottle has the juice of over 150 cloves of farm fresh garlic.

Over 1,000 sprays per bottle.

Packed in 12, 8-ounce bottles per case.

Our garlic juice is flash pasteurized for safety, yours should be, too.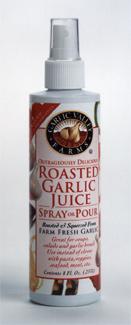 Marvelous for making garlic mashed potatoes, and about the only way to put garlic on a salad. Splendid on barbecue, meats, seafoods, in sauces and soups.

All natural ingredients in 8-ounce pump spray and pour bottles.

Each bottle shrink-wrapped and tamper resistant.

Doesn't need refrigeration.